How to Change a Flat Tire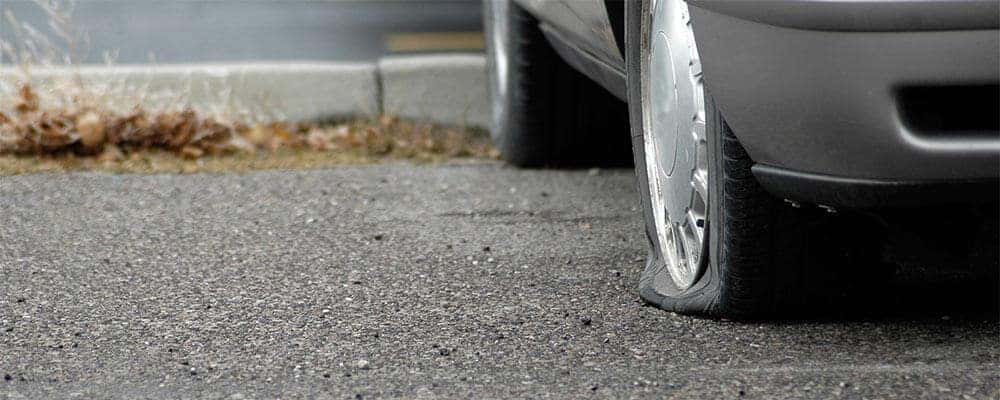 Everyone wants to avoid getting a flat tire at all costs, but even the best car care, good tire tread depth and tire pressure, and the newest tires can be susceptible to road hazards around Middletown. Follow our easy guide and learn how to change a car tire at Old Saybrook Chrysler Dodge Jeep RAM so you can be prepared, and contact us if you have any questions!
Guide to Changing a Tire
Replacing your tire on your car, truck, or SUV on the go is a fairly simple and straightforward process. Just like repairing dents or other car repair, in order to change the tires on a Chrysler, Dodge, Jeep, RAM, you'll need the right tools to safely and effectively change a tire, and then simply follow the instructions below.
Supplies You'll Need (Keep in Your Car):
A jack
A lug wrench
A spare tire or new tire
Your owner's manual
A flashlight
A road hazard triangle for safety
Wheel wedges/rocks/bricks to prevent the car from rolling
Instructions:
If you get a flat on the road, pull over to a safe place.
Turn on your hazard lights and place the hazard triangle next to the back of your car.
Apply the parking brake and place wheel wedges under the non-flat tires.
Remove the hubcap from the tire and loosen the lug nuts by turning counterclockwise.
Position the jack under the beam of the car frame near the flat tire (either just behind the front tire or just in front of the rear tire).
Use the jack to carefully raise your vehicle, and remove the lug nuts.
Remove the current tire and mount the new or spare tire.
Tighten the lug nuts gradually by partially tightening one then moving on to the next, and repeating the process until all are completely secure.
Lower your vehicle back to the ground and remove the jack and wheel wedges.
Place the flat tire in your trunk for repair or disposal.
What To Do After Changing A Tire
If you used a spare tire to replace your flat: You'll need to take special care when driving around New London and schedule service to have it replaced with a proper tire as soon as possible. Most spare tires are not designed to be driven over speeds of 50 mph or for long distances (over 50 miles).
Whether you used a spare or new tire: Take your flat tire to your local service center to see if it is repairable–minor repairs can be quite inexpensive, so it's worth looking into to save your self a hundred dollars or more. If it is not fixable, the service center can dispose of it for you.
Rely on Old Saybrook Chrysler Dodge Jeep RAM for Your Service Needs
When it's time for you to replace your tires in the Madison area, check our rotating parts specials and service specials before stopping by so you can take advantage of additional savings. For more how-to guides from Old Saybrook Chrysler Dodge Jeep RAM, discover how to program your Dodge key fob.
More From Old Saybrook Chrysler Dodge Jeep RAM
Everyone wants to avoid getting a flat tire at all costs, but even the best car care, good tire tread depth and tire pressure, and the newest tires can be susceptible to road hazards around Middletown. Follow our easy guide and learn how to change a car tire at Old Saybrook Chrysler Dodge Jeep RAM so you can be prepared, and contact…

Schedule ServiceContact Us Unsure how to check your tire pressure? Since proper inflation is crucial for tire performance and your vehicle's overall health, it's necessary keep track of tire pressure. Learn how to check your tire pressure before hitting the roads of New London with Old Saybrook Chrysler Dodge Jeep Ram! How to Use a Tire…

Contact Us If you're interested in learning how to lift your truck, you'll want to put your focus on lift kits. These kits will help you make your vehicle sit higher, which is good for those who want to explore some off-road adventures in Old Saybrook or just make your vehicle stand out against others…