Get Rid of Those Ugly Dents, Door Dings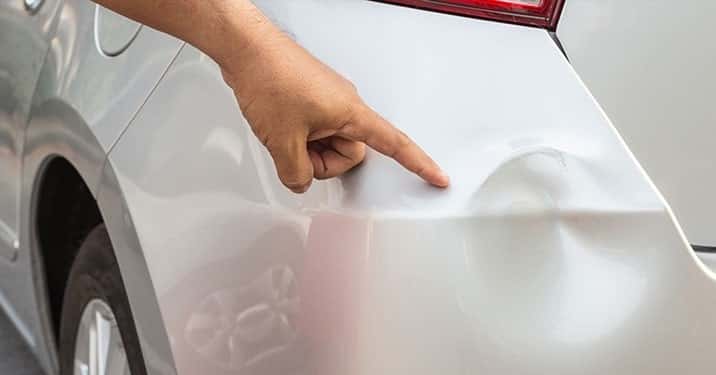 A summer of errands and road trips probably added some dents and dings to your vehicle.
Paintless dent repair offers an alternative to body shop repair for those small imperfections that mar a vehicle's appearance and lower its value.
"Dents and dings are particularly annoying because they show up like spots on a mirror, especially on dark colored surfaces," said Chuck Sulkala, executive director of the National Auto Body Council. "They also can diminish the value of your vehicle."
Scraped paint and dents that leave metallic surfaces exposed can rust and corrode. In other words, a small problem can turn into a big one, given enough time.
Damage needs to be addressed before it becomes a worse problem, Sulkala said.
"Paintless repair may be done just as effectively and seamlessly as a regular repair and can thereby maintain the original factory finish," he said.
Body shop repairs traditionally involved sanding, masking, priming and painting. The work is laborious and may not be cost-effective for something as small as a door ding.
It takes an expert with a keen eye to do the work properly, Sulkala said. The technician must finesse the metal, applying the right pressure to the exact spots to achieve the best result.
"The process is more of an art skill than the use of machines and tools to do the work," Sulkala said.
Paintless dent repair may be used on a wide variety of dents, as long as the sheet metal is not stretched or the paint chipped.
Sulkala offered the following guidelines for vehicles needing minor dent repair:
Location of the dent determines repair options. Trunks, all side panels, roofs and hoods are the best candidates for repair.
Check for chips and scratches that expose the surface metal. Surfaces must be repainted even if dents are removed. Otherwise, water may interact with the metal and cause rust.
Use a paintless dent repair specialist and get references and proof of insurance before work begins.
Consider removing dents and dings before trading in your vehicle. It may improve resale value.
Avoid paintless dent repair for parts made of plastic or metal composite. Those types of components cannot be fixed by paintless repair.
Do not use paintless dent repair on stretched panels and dents on panel body line creases. In most cases both problems require traditional auto body repair.
Ask your service advisor for assistance finding the right dent repair specialist.
"Put your vehicle in the hands of someone you trust," Sulkala said. "Make sure your collision repair specialist is as competent with your vehicle as your doctor is with working on you.