2019 Ram 1500 Reviews & Highlights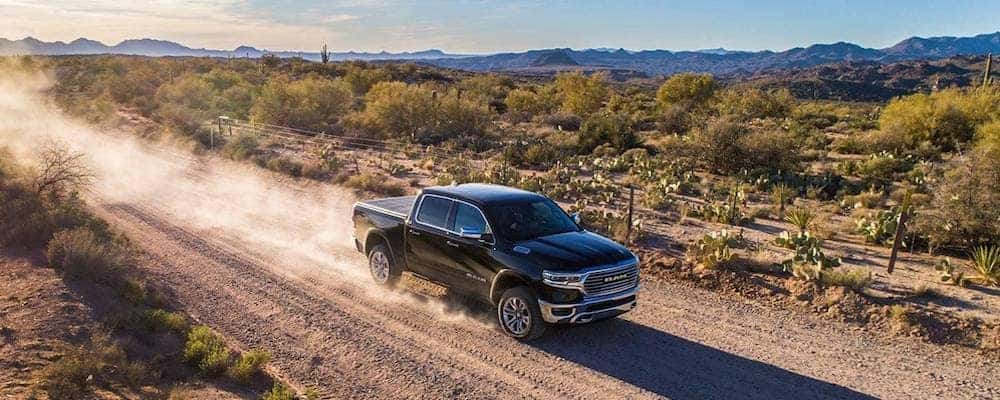 If you're looking for full-size pickup trucks that bring robust performance specs and unique performance features to the mix, then check out the all-new 2019 Ram 1500 near Middletown at Old Saybrook CDJR. The new Ram 1500 towing capacity and payload are downright impressive, as are its incredible lineup of class-exclusive features. See what experts are saying, too, with this rundown of the new Ram 1500 reviews, and then find the new Ram 1500 for sale in Old Saybrook!
Edmunds: RAM 1500 Towing & Performance
"The 2019 Ram 1500 is all-new and redesigned but hasn't abandoned its successes, namely a unique coil-spring rear suspension that delivers a smooth ride without sacrificing towing or hauling capability. Perhaps the Ram 1500's greatest feat is serving as a blank canvas to build your truck needs around. From work truck to luxury truck, the Ram 1500 offers a broad skill set."
Car and Driver: RAM 1500 MPG
"Thanks to a number of weight-saving technologies, the new Ram weighs significantly less than its forebear. Lighter, more aerodynamic, and filled with the latest fuel-saving technology, the 2019 Ram 1500 might just be the automotive industry's best attempt at melding efficiency with outright capability."
Kelley Blue Book: RAM 1500 Luxury & Comfort
"Another Ram hallmark has been interior quality, and for 2019 the designers have gone above and beyond what you would expect in a truck. It isn't just one layout that looks nice; there are several. Materials and fit and finish are excellent, and while we didn't get to see all the possible combinations of cloth, leather, wood, and metal, what we did see was arguably best in class, while the controls were logically placed and in easy reach."
Check Out All the New Ram Trucks Near New London at Old Saybrook CDJR!
Find the new Ram 1500 for sale near Middletown today at Old Saybrook CDJR, where you can also compare the Ram 1500 vs. Ram 2500 in person. Check out all the new Ram 1500 configurations at our dealership, located at 255 Middlesex Turnpike in Old Saybrook, CT, and contact us with any questions you might have at (860) 398-4485.
More From Old Saybrook Chrysler Dodge Jeep RAM
We know that business owners in Old Saybrook and New London work hard to keep things running smoothly, and Ram can help. The Ram BusinessLink program is designed to provide  easy and quick access to maintenance, loaner vehicles, commercial financing, and more, as well as member services and incentives. Learn what Ram BusinessLink has to offer at Old Saybrook Chrysler Dodge Jeep RAM….

Everyone wants to avoid getting a flat tire at all costs, but even the best car care, good tire tread depth and tire pressure, and the newest tires can be susceptible to road hazards around Middletown. Follow our easy guide and learn how to change a car tire at Old Saybrook Chrysler Dodge Jeep RAM so you can be prepared, and contact…

If you are ready for your next vehicle in Middletown commutes, you might be asking yourself, "should I buy or lease?" There are benefits to both leasing and buying your next car, and depending on your lifestyle, budget, and needs you might find that one is better for you than the other. Compare leasing vs….